Our Lady of Prompt Succor - Hasten to help us

Our Lady of Prompt Succor - Hasten to help us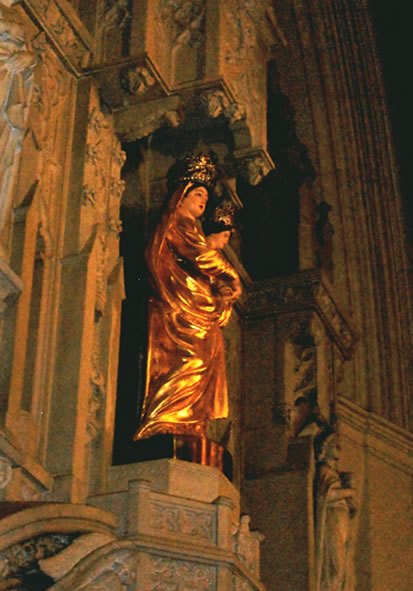 Statue of Our Lady of Prompt Succor, Our Lady of Prompt Succor Shrine, Ursuline Academy, New Orleans, Louisiana; Photo by Ellyn Orth-Meier;
www.neworleanschurches.com
Prayer to Our Lady of Prompt Succor

OUR LADY OF PROMPT SUCCOR, ever Virgin Mother of Jesus Christ our Lord, powerfully assist us as we battle against evil and sin.
The divine promise of a Redeemer was given to humanity right after the fall of Adam and Eve.
Through your Divine Son's victory over death, you crushed the serpent's head.
Come to our help and deliver us from the lies and accusations of the devil.
Intercede for us with Jesus that we may always accept God's will and be found faithful to Him in all that we think, say and do.
Have pity on us and obtain for us protection from every storm of life and all calamities that threaten us.
Assist us in the many trials which rise to meet us on our journey back to the Father.
Be for us truly Our Lady of Prompt Succor, now and especially at the hour of our death.
Amen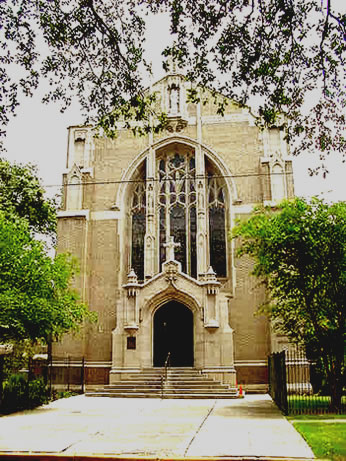 Our Lady of Prompt Succor Shrine, Ursuline Academy, New Orleans, Louisiana; Photo by John and Katheleen DeMajo;
www.neworleanschurches.com
Background

DURING the French Revolution of the late 18th century, priests and religious were persecuted and often had to go into hiding in order to administer the Sacraments and keep their vocation and apostolates. This is what happened with the Ursuline nuns of the Convent of Pont-Saint-Esprit. One of the nuns, Agathe Gensoul, who could no longer use her religious name, Mother St. Michel, still lived her vocation, starting a school with another Ursuline, Sophie Ricard.
Agathe had a cousin who was an Ursuline also, but who lived in the United States, in New Orleans, which had been at that time under Spanish domain, but had been taken back by the French. Fearing French persecution, the Spanish Ursulines there went back to Spain, which left the convent in need of more nuns.
So Agathe or Mother St. Michel applied to the bishop for the transfer to New Orleans, who refused her request because of the trouble in France. He told her that the Pope would have to approve her move. He, however, was under house arrest. The situation was near impossible. But this did not discourage Agathe, who immediately wrote a letter to Pope Pius VII. After three months, she was still without means to send it.
One day, while praying before a statue of Mary, she was inspired with this prayer:
"O Most Holy Virgin Mary, if you obtain a prompt and favorable answer to my letter, I promise to have you honored in New Orleans under the title of Our Lady of Prompt Succor."
She not only found a way to send the letter a few days later, but the Pontiff replied within a month! He granted his permission, blessing her new undertaking, which surprised the bishop who asked to bless the statue that Mother St. Michel had carved to take with her to New Orleans.
The statue was enshrined in the Ursuline convent in New Orleans on December 30,1810. Two years later, another miracle would be attributed to the Virgin under this title. A terrible fire ravaged the city in 1812, and the wind was rapidly driving it in the direction of the convent of the Ursulines. One of the nuns, Sister St. Anthony, placed a small replica of Our Lady of Prompt Succor in her window that faced the approaching fire, while Mother St. Michel prayed aloud, asking Our Lady for help. Immediately the wind changed direction of the flames.
Mary's help has been sought from the shrine ever since, both in time of war [the Battle of New Orleans] and during the threat of hurricanes, a persistent peril on the Gulf of Mexico Coast.
The Feast day of Our Lady of Prompt Succor is on January 8.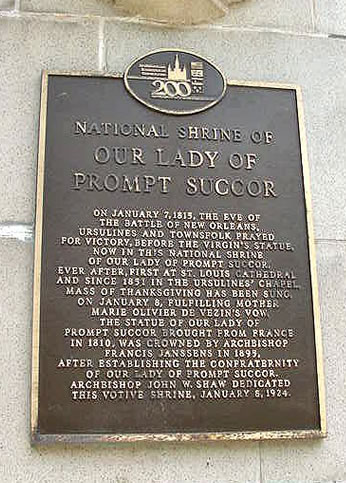 Dedication plaque at Our Lady of Prompt Succor Shrine, Ursuline Academy, New Orleans, Louisiana; Photo by John and Katheleen DeMajo;
www.neworleanschurches.com
January 8 - Our Lady of Prompt Succor - Hasten to help us



This site is dedicated to Our Lord Jesus Christ
in the Most Holy Virgin Mary,
for the Glory of God
The Apostolic Blessing by the Holy See in Rome is bestowed (October 28, 2013)
Cooperatores Veritatis

Omnia ad majoren Dei Gloriam!
(All for the greater glory of God)
Contact/email us by writing to info@catholictruth.net
Design and some materials ©2013-2022 by CatholicTruth.Net - All Rights Reserved
Some works are open license - others are copyrighted by their respective intellectual property owners, as noted.

Hosted & powered by
UNI COMP® Inc.