Prayer for Children to the Virgin of Perpetual Succor
Prayer for Children to the Virgin of Perpetual Succor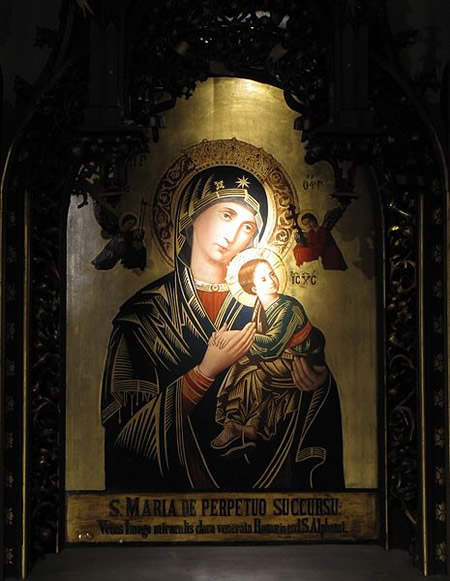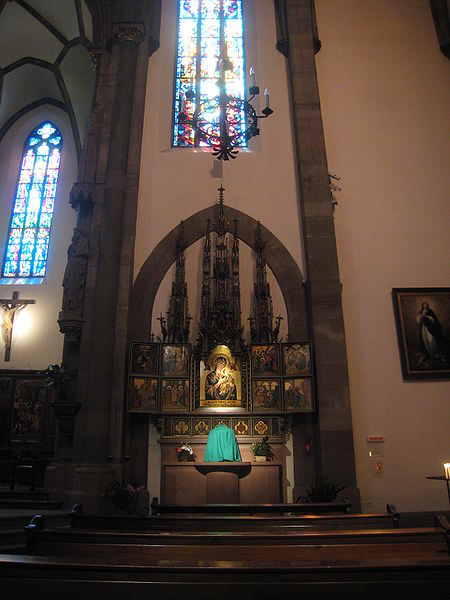 Our Lady of Perpetual Succour, at the Old Catholic High Altar; Altarpiece: "Life of the Virgin", Church of St. Peter, Alsace, Bas-Rhin, Strasbourg, France;
https://commons.wikimedia.org


MY MOTHER, SUCCOR MY CHILDREN!
May these words be the cry
of my heart before the aurora.

O Mary, may your blessing accompany them,
guard them, defend them, animate them,
sustain them in all places and in all things.

When prostrate before the presence of the Lord,
they offer Him their tributes of praise and prayer;
when they present before Him their needs,
or implore His divine mercies;
Mother of Mine, Succor my Children!

When they go to work, where their duties call them;
when they pass on from one occupation to another,
with each movement that they execute,
and with each action they take;
Mother of Mine, Succor my Children!

When the trial comes to exercise its most weak virtue
and the chalice of suffering is before their eyes;
when Divine Mercy wants to instruct them and purify
them through suffering;
Mother of Mine, Succor my Children!

When hell, unleashed against them
endeavors to seduce them
with the attractions of pleasure,
the violence of temptations
and bad examples;
Mother of Mine, Succor and preserve
my Children from all evil!

When they go about searching for the remedy
for their ills and the cures for their wounds
in the Tribunal of reconciliation and peace;
Mother of Mine, Succor my Children!

When they approach the Sacred Table to feed
themselves with the Bread of Angels,
with the Word made flesh for us
in your most pure entrails;
Mother of Mine, Succor my Children!

When at night they propose to rest
with the goal of resuming with full fervor
the next day their path onto the Eternal Homeland;
Mother of Mine, Succor my Children!

May your blessing, My Mother,
descend upon them during the day,
and at night, in consolation, in sadness,
in work, in rest, in health and in sickness
in life and death; and may their death
not be unprepared, and may all this come to
pass for all eternity.
So Be It. Amen

Pray 3 Hail Marys







MY MOTHER, SUCCOR MY CHILDREN!
May these words be the cry
of my heart before the aurora.

O Mary, may your blessing accompany them,
guard them, defend them, animate them,
sustain them in all places and in all things.

When prostrate before the presence of the Lord,
they offer Him their tributes of praise and prayer;
when they present before Him their needs,
or implore His divine mercies;
Mother of Mine, Succor my Children!

When they go to work, where their duties call them;
when they pass on from one occupation to another,
with each movement that they execute,
and with each action they take;
Mother of Mine, Succor my Children!

When the trial comes to exercise its most weak virtue
and the chalice of suffering is before their eyes;
when Divine Mercy wants to instruct them and purify
them through suffering;
Mother of Mine, Succor my Children!

When hell, unleashed against them
endeavors to seduce them
with the attractions of pleasure,
the violence of temptations
and bad examples;
Mother of Mine, Succor and preserve
my Children from all evil!

When they go about searching for the remedy
for their ills and the cures for their wounds
in the Tribunal of reconciliation and peace;
Mother of Mine, Succor my Children!

When they approach the Sacred Table to feed
themselves with the Bread of Angels,
with the Word made flesh for us
in your most pure entrails;
Mother of Mine, Succor my Children!

When at night they propose to rest
with the goal of resuming with full fervor
the next day their path onto the Eternal Homeland;
Mother of Mine, Succor my Children!

May your blessing, My Mother,
descend upon them during the day,
and at night, in consolation, in sadness,
in work, in rest, in health and in sickness
in life and death; and may their death
not be unprepared, and may all this come to
pass for all eternity.
So Be It. Amen

Pray 3 Hail Marys





MY MOTHER, SUCCOR MY CHILDREN!
May these words be the cry
of my heart before the aurora.
O Mary, may your blessing accompany them,
guard them, defend them, animate them,
sustain them in all places and in all things.
When prostrate before the presence of the Lord,
they offer Him their tributes of praise and prayer;
when they present before Him their needs,
or implore His divine mercies;
Mother of Mine, Succor my Children!
When they go to work, where their duties call them;
when they pass on from one occupation to another,
with each movement that they execute,
and with each action they take;
Mother of Mine, Succor my Children!
When the trial comes to exercise its most weak virtue
and the chalice of suffering is before their eyes;
when Divine Mercy wants to instruct them and purify
them through suffering;
Mother of Mine, Succor my Children!
When hell, unleashed against them
endeavors to seduce them
with the attractions of pleasure,
the violence of temptations
and bad examples;
Mother of Mine, Succor and preserve
my Children from all evil!
When they go about searching for the remedy
for their ills and the cures for their wounds
in the Tribunal of reconciliation and peace;
Mother of Mine, Succor my Children!
When they approach the Sacred Table to feed
themselves with the Bread of Angels,
with the Word made flesh for us
in your most pure entrails;
Mother of Mine, Succor my Children!
When at night they propose to rest
with the goal of resuming with full fervor
the next day their path onto the Eternal Homeland;
Mother of Mine, Succor my Children!
May your blessing, My Mother,
descend upon them during the day,
and at night, in consolation, in sadness,
in work, in rest, in health and in sickness
in life and death; and may their death
not be unprepared, and may all this come to
pass for all eternity.
So Be It.
Amen
Pray 3
Hail Marys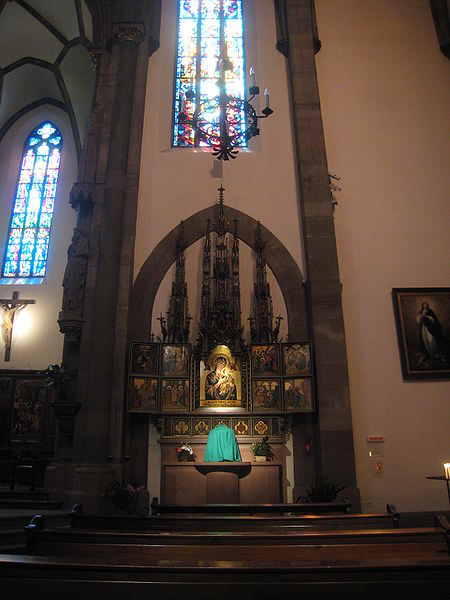 Our Lady of Perpetual Succour, at the Old Catholic High Altar; Altarpiece: "Life of the Virgin", Church of St. Peter, Alsace, Bas-Rhin, Strasbourg, France;
https://commons.wikimedia.org
Prayer for Children to the Virgin of Perpetual Succor
This site is dedicated to Our Lord Jesus Christ
in the Most Holy Virgin Mary,
for the Glory of God
The Apostolic Blessing by the Holy See in Rome is bestowed (October 28, 2013)
Cooperatores Veritatis

Omnia ad majoren Dei Gloriam!
(All for the greater glory of God)
Contact/email us by writing to info@catholictruth.net
Design and some materials ©2013-2022 by CatholicTruth.Net - All Rights Reserved
Some works are open license - others are copyrighted by their respective intellectual property owners, as noted.

Hosted & powered by
UNI COMP® Inc.